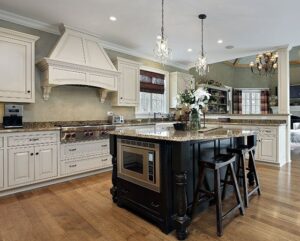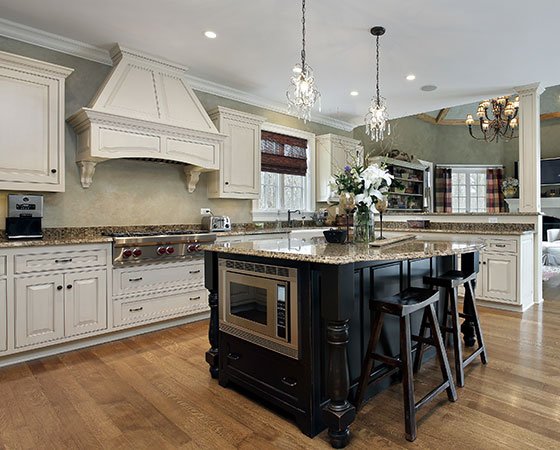 Wondering what it will cost to Refinish your Denver kitchen cabinets?
Cabinet Refinishing Denver, offers a standardized pricing that is very easy to apply across all projects based on the number of cabinet doors, drawers and surfaces. We can give you an accurate idea on cost right through email or text messaging at 720-219-9716. Just click below to get started or text us for a immediate response.
Cabinet Painting

Want to save thousands of dollars on your kitchen remodel? Then let us paint your existing cabinets. If you like the layout of your kitchen, we can transform your existing cabinets into something updated and amazing. With a little paint and glaze we can update your kitchen cabinets without you having to replace them.
Granite, quartz and stone countertops are all the rage today. As a matter of fact, it you live in the Denver area and your house is valued for homebuyers EXPECT granite, quartz or stone countertops as a standard amenity and not an upgrade. So, if resale value is important to you, spend your money on the countertops and update your existing cabinets with paint and glaze.
Cabinet Painter in Denver

While we most often paint surfaces that previously had a more natural wood finish, sometimes we're asked to change the existing cabinet paintcolor. In this case, our client asked us to paint their black cabinets white – not an easy process, but one that our team could definitely get completed with no problem.
CREATE A KITCHEN ATMOSPHERE YOU'LL LOVE

If you enjoy cooking or you spend lots of time in the kitchen trying to come up with an exciting dinner menu, your kitchen should be an inspiring, creative space. If the current look of your kitchen doesn't suit you anymore, we can help you show your kitchen cabinets some love and completely transform them with a new coat of paint.
A simple cabinet repaint job gives your Denver, kitchen a brand-new look and changes how you experience cooking on a daily basis.
Dare to choose bright colors that inspire you and create a warm, homey feel, making cooking and spending time in the kitchen a pleasure once again.
GET THE KITCHEN CABINETS YOU WANT IN AS LITTLE AS 7-12 BUSINESS DAYS

With most painting companies, kitchen cabinet painting takes around two weeks because it involves disassembling your cabinets, transporting them to the paint shop, and then transporting them back to your place for installation. At Cabinet Refinishing Denver, we've created a process that allows you to have your kitchen back in 7-12 business days.
We do this by keeping all the work at our shop. Once we've agreed on the details, we'll set up our workstation in your garage, and after protecting the area, we'll start painting. Having limited access to your garage for a few days is better than being unable to use your kitchen for weeks.
You don't have to worry about moving cabinets in and out of the house, disassembling them becausewe will do that, and damaging your home during installation. We'll take care of everything and leave your home spotless once we're done.
We service all of Colorado and surrounding areas of Boulder Colorado including: Highlands Ranch CO, Parker Co, centennial Co, Castle Pines Co, Castle Rock Co, and all of Douglas County, Lakewood CO, Littleton Co., Jefferson County, Broomfield, Thornton, Littleton, Arapahoe County, Adams County and all of Denver County, Centennial CO, including Boulder Co, Colorado Springs CO and the entire state of Colorado. Superior Colorado, Louisville Colorado, Frederick Colorado, Longmont Colorado, Loveland Colorado, fort Collins Colorado, Lafayette Colorado, Erie Colorado, and Firestone Colorado.
As a family owned business for over 37 years, we understand the hardships of keeping a home remodeling project on track with the budget. Let us provide you with the quality work that you require for your kitchen cabinet painting and refinishing project. At Cabinet Refinishing Denver, your satisfaction is our number one priority.
Videos of Our Cabinet Refinishing Work in Denver.
Our experienced and dedicated family members are Committed to giving you a highly durable beautiful finishes using non toxic low voc coatings.This craftsmanship is combined with a dedication to exceptional customer service. The following are some highlights of the Cabinet Refinishing Denver, process.
Get any appearance you want by selecting any color, or match to whatever you'd like such as tile or counter.Then select any sheen level.
Our paint looks like it was personally applied, not like a film of plastic.
We use waterborne primers, paints, and protective clear coats as the basis for the Cabinet Refinishing Denver, cabinet painting system.
All of the coating products we utilize are non toxic, very low VOC, and can be safely applied in an inhabited house or building.
No toxic solvent or lacquer based products are used.
Our coatings have exceptional durability ,high resistance to scuffs and abrasion,extremely washable,and excellent water resistance.
No mess of demolition, surfaces not to be painted are completely protected, including floors, walls, and appliances.
Kitchen cabinet painting takes approximately 7-12 days in your home.
The cabinet painting system can be applied to any type of cabinet, including vanities, book cases, entertainment centers, and built ins. Call us today! 720-219-9716
To see more Cabinet Refinishing Denver, tips click on the link below.
https://www.wfcabinetry.com/semi-custom-cabinets-glazes-variety-techniques/