Cabinet Painting Denver
Serving all of the Metro Denver Area and all of Colorado
Cabinet Painting Denver, has been family owned and operated since the early 80's and our number one objective is to provide the finest, kitchen cabinet refinishing and cabinet painting throughout the entire Denver, Colorado area.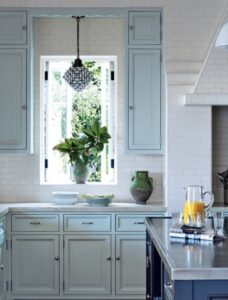 We use durable, high-quality paint products to ensure that not only will the result look beautiful, but you won't need to redo it for years to come. We offer a variety of different paints, so you can choose the one that works for your kitchen. For example, if you have children or pets, you may want a more durable finish. We consider what you need for your space, and we listen to your individual needs when we recommend a paint type and color for your kitchen cabinets.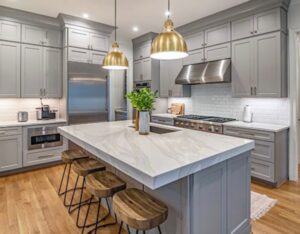 Our Cabinet Painting Team in Denver, Colorado, and the surrounding areas have the skill you need to upgrade your kitchen without breaking the bank. Our residential Cabinet  painting company in Denver,  has been in the business for 38 years, and we've updated many clients' kitchens to create their ideal vision for the most important room in the house.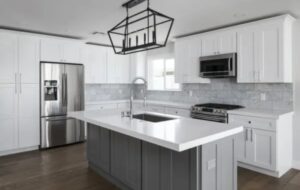 Our custom cabinet painting & refinishing provides cabinetry with a fresh & high quality finish without having to remove counters or boxes. We deliver a superior finish that can marry any cabinets to the countertop, creating a stunning space.
When you need to find a reputable cabinet painting and refinishing contractor in the Denver Metro area, look no further than Cabinet Painting Denver. We have earned the trust of our residential and business customers through our commitment to quality and workmanship. We are fully insured.
Cabinet Painting Instead of Replacing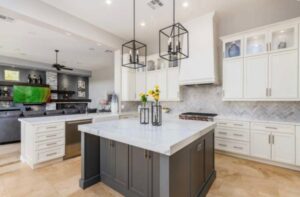 There are a number of good reasons to restore instead of replace your cabinets, including:
Cabinet painting or cabinet refinishing are the most cost-effective ways to update your cabinets.
We offer a wide selection of paints, stains, glazes, and finishes from which you can choose.
You'll save the cost of removing the existing cabinets, the cost and installation of new cabinets, and the cost to haul away the old cabinets.
Restoring cabinets is a much less time-consuming job than replacing the cabinets and can generally be completed in 2 to 3 weeks.
The Cabinet Painting Process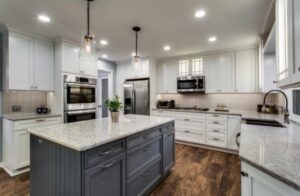 There are several steps involved in restoring kitchen cabinets, and bathroom cabinets. First, the existing finish will be stripped off and then sanded. Next, our team of experts will remove scratches and imperfections from the doors and drawers. Then the cabinets will be refinished — painted or stained, your choice — and then sealed using top-brand sealants, lacquer coats, or clear.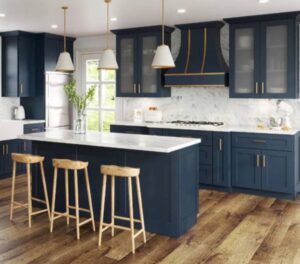 If you're debating whether or not to have new cabinetry installed in your kitchen or bathroom vs. painting or refinishing your cabinets, we're happy to answer any questions you have.
We are one of the few Denver Metro area, Including all of Colorado, cabinet paint companies that provide on and off-site cabinet painting services. We have our very own spray booth for those who want a more "factory finish" look. Typically we will spray the doors and drawers at our facility and do the face frames and cabinet trim/boxes at your home or place of business Because there's no job too big or too small.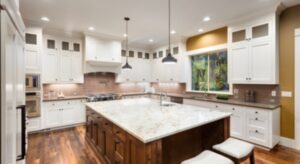 Painting of cabinetry is one of the most difficult and specialty items for a paint contractor. It takes years to master this special art. If not done by someone with experience, the finishes can easily chip or peel off, not adhere well to the surfaces or just plain not look good. Painting Cabinets Denver, guarantees that your cabinetry and other wood surfaces will be completed according to the highest level of craftsmanship.  
Affordable Yet Well Done Cabinet Painting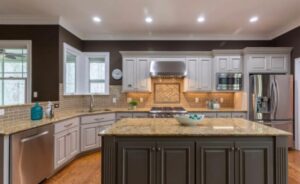 Painting your Denver, area cabinets is a cost effective alternative to replacing or even refacing them. The primers, sealers and top coats we use make painting or staining your cabinets a great value. Contact us today to discuss your cabinet related needs.
CONTACT US FOR YOUR CABINET PAINTING MAKEOVER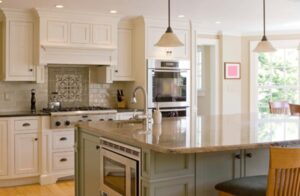 If you need to re-invigorate your outdated kitchen cabinets, look no further than the professionals at Cabinet Painting Denver! Contact us today for your free estimate.720-219-9716
To see more Cabinet painting Denver, Colorado, tips click on the link below. Other companies work ethics may not reflect Cabinet Painting Denver, Colorado, work ethics for we do not use cheap latex caulking or bondoing seams because of the high Probability of recracking and you cannot sand latex caulking.
https://www.familyhandyman.com/list/surprising-tips-for-painting-kitchen-cabinets/
https://wallapainting.com/7-tips-from-the-pros-on-cabinet-painting/