Refinishing Kitchen Cabinet Photos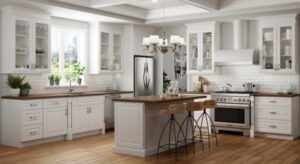 When it comes to cabinet refinishing in Denver, We are top of  High quality Cabinet Refinishing in the metro Denver area for over 37 years, Refinishing hundreds of Denver, Homeowners to their satisfaction.  When it comes to your kitchen cabinets being refinished it's  Very important to hire ire the right company to get the job done correct the 1st time giving you the results of a factory finish. We use the correct techniques and equipment to accommodate a factory finish look.

The Importance of a smooth Factory finish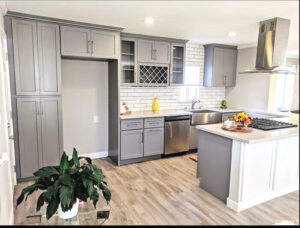 When refinishing cabinets in Denver, with a smooth factory finish or fine finish its important to use the right equipment and spray tips to achieve a professional finish that is smooth to the touch. prep work is key. Sanding dust and crumbs from caulking get stuck in the paint if left on the surface. These imperfections become very noticeable from an angle on doors painted with a glossy finish. You should be able to look at the doors from an angle and not see any texturing from imperfections. controlling the sanding dust is Crucial One of the most important parts to achieve this goal.
Sanding Cabinet Doors
Sanding is important because it removes the protective lacquer coating on cabinets to expose the bare wood for primer and paint. This provides a much stronger bond than if you were to prime and paint directly over the surface without sanding. Sanding also smooths out any rough areas or splintered wood. Annoying sticker glue comes off easily with a sander too.
We Paint Cabinets Using a Sprayer
Cabinet Refinishing includes using a sprayer to give a beautiful professional look and touch to your Denver, kitchen cabinets. Cabinet painting spraying  Is very cost effective comparing to buying brand new cabinets. Professionally sprayed kitchen cabinets is what we specialize in specialize in for over 37 years to give you the best results we use the best techniques and products to achieve a beautiful look and feel that will last many years.
Prep-prep-prep. Prepping your cabinets correctly ensures that every hour spent preparing the cabinet door for painting saves two hours in repainting. Prepping your cabinets includes several steps. Remove your cabinet doors first. Make sure you create a system of organization, a diagram, or a way to label each piece to ensure that you'll remember exactly where each cabinet door and drawer goes. Same goes for any hardware you remove.
 Make sure that you thoroughly wash anything that will be painted to remove grease, grime, and any buildup. Get your hardware good and clean because you won't want to damage your fresh finish after the fact.
 Clean inside your cabinets so they're clean, tidy, and ready to go once everything is reinstalled. Again, it'd be a shame to damage your fresh finish because you didn't prepare properly
Carefully cover any hardware that won't be removed with painter's tape. Also make sure any other exposed surfaces—like floors and counters—are covered in drop cloths or butcher's paper to protect them.

Can Your Cabinets Be Refinished?




There's nothing more frustrating than spending tons of time carefully prepping out your cabinet doors, only to discover that they're not taking wood cabinet finishes the way you were expecting. That's why it's so important to make sure you know what kind of cabinets you have first, and whether they can take the kitchen cabinet finishes you were planning on using. So what should you look for?
Actual wood:If you have laminate cabinets, we can still get our material to bond through proper Preparation. While it is possible to paint laminate, the finish can be unreliable and is prone to peeling. If your cabinet doors are laminate, we suggest replacing them with new cabinet doors rather than attempting to paint them. This is still significantly less expensive than fully replacing your cabinets, so don't panic if this is the case for you.
Wood species:If you're looking for smooth, professional-looking finished cabinet doors, you'll want to look for certain wood species that take paint well. Close-grained wood species—like maple, poplar, or even MDF—are best for painting because they don't absorb the paint. Open-grained wood on the other hand—like oak and ash—absorb the paint into the grain so that the grain of the wood is prominent rather than producing a smooth finish. If you want to paint an open-grained wood, you'll need to seal the wood and use wood grain filler, which makes for a much more time-intensive job.
Solid cabinets:If your cabinets or cabinet doors aren't in good shape, there's little point in refinishing them. Even freshly finished cabinet doors won't look good if the cabinets are too worn or damaged. If it's just the finish or the hardware that's worn, but the wood itself is still solid, you should get good results from painting kitchen cabinets.

If your cabinets are made from the right materials and are in good enough shape to accept the finish you choose, you should be ready to get started with the process. Remember that wood cabinet finishes can be finicky, so take your time and make sure you follow our tips below carefully to get the results you want.
If you're looking for the right company to get the job done right the 1st time give us a call here at Cabinet Refinishing Denver, today. 720-219-9716