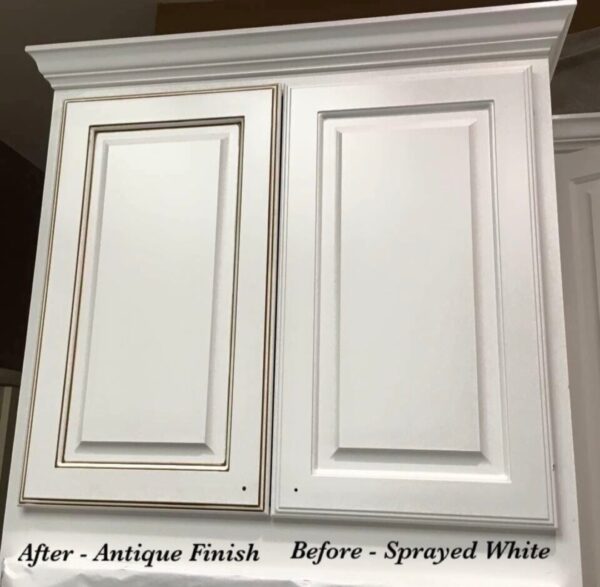 Rejuvenate Your Kitchen Cabinets

Your kitchen lies at the heart of your home — From preparing meals to helping with homework, you spend hours there each day. If you choose to update your cabinetry, or want to install new cabinets, it can make your time spent in the kitchen more pleasant. Choosing to replace your cabinets can prove to be quite the costly home improvement project when compared to cabinet refinishing, sometimes requiring a more extensive remodel. When done correctly however, refinishing your kitchen cabinets, countertops or backsplash can prove to be an extremely wise investment.
Whether you are looking to refinish or repaint older cabinets, or paint new cabinets to match the trim and feel of your home, we the expertise and process to complete your custom project in a way that's aesthetically pleasing, cost-effective, and timely.
OUR CABINET PAINTING AND REFINISHING SERVICES INCLUDE:

•Painting new or older cabinets
•Cabinet refinishing
•Custom stains
•Painting stained cabinets
•Hardware replacement
•Kitchen cabinet painting & refinishing

ENHANCING THE BEAUTY OF OLDER CABINETRY

If you have older cabinets that you are looking to extend the life of, our expert team can strip and stain your cabinet doors and drawers in a way that restores and brings out the natural beauty of the wood.
WE REPLACE HARDWARE

Often, updating the look and feel of your cabinets calls for new hardware. Our skilled team will replace handles, fill holes, and install new hardware to complete the look of your new cabinets.
STRESS & WORRY-FREE EXPERIENCE

We understand the inconvenience that homeowners can face by having a contractor work on a project in their home, which is why much of our work is completed off-site, greatly reducing unwanted smells, clutter, and dust in our customers' homes.
Our system minimizes the impact of our work on the homeowner. We use only the latest products, which are very low in VOC and good for your home and the environment.
Whether you are looking to hire a contractor for a kitchen cabinet painting project, or to extend the life of your existing cabinetry, Cabinet Refinishing Denver, is ready to deliver a professional, hassle-free experience.
Once, we had a homeowner show us a sample board of a competitor. It was awful. Our price for the job was close to $3,700 and his was $800. We showed her a sample cabinet door of what we could do. She saw and felt the difference.
By seeing a sample of an $800 job versus a $4700 job, the decision was quick and easy. This homeowner became a satisfied cabinet painting customer of Cabinet Refinishing Denver. She chose quality over "a deal," and she totally transformed the feel of her kitchen while avoiding a major renovation. We have been around for 37 years and service all of Colorado the Denver and the metro area including: Highlands Ranch CO, Parker Co, centennial Co, Castle Pines Co, Castle Rock Co, and all of Douglas County, Lakewood CO, Littleton Co., Jefferson County, Broomfield, Thornton, Littleton, Arapahoe County, Adams County and all of Denver County, Centennial CO, including Boulder Co, Colorado Springs CO and the entire state of Colorado. Superior Colorado, Louisville Colorado, Frederick Colorado, Longmont Colorado, Loveland Colorado, fort Collins Colorado, Lafayette Colorado, Erie Colorado, and Firestone Colorado.
Cabinet Refinishing Denver, been serving satisfied customers in , and Denver, counties since 1985, and specializes in Cabinet refinishing, Cabinet Glazing.
IS Cabinet Refinishing Denver Right For You?
Please do not hesitate to contact us for a free estimate for your kitchen or other cabientry projects. We can discuss the prices with you and even help you select the right kitchen cabinet colors. If you want to really dress things up, we can apply a glaze to the cabinets as well! Call us today at 720-219-9716 send me an email, or Request an Estimate Online
To see more Cabinet Refinishing Denver, tips click on the link below
https://www.bobvila.com/articles/how-to-glaze-kitchen-cabinets/