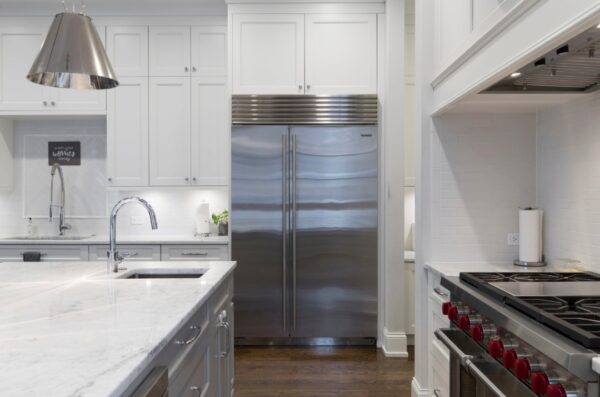 If you want to transform the look of your kitchen, cabinet painting is one of the easiest, most affordable, and effective ways to get the look and feel you want for your kitchen, for a fraction of what it would cost to replace the cabinetry completely! Repainting kitchen cabinets yourself is not easy, and if you want the job done right so that you will cherish your cabinets for years to come, it is best to hire the team at Novielli Painting for professional kitchen cabinet painting services.
Cabinet Refinishing
If your kitchen is looking boring and bland, refinishing kitchen cabinets is a great way to breathe new life into the space. When you choose Cabinet Refinishing Denver, for professional cabinet painting, our experienced team will leave your cabinets looking fresh, clean, and brand new. Not only is refinishing kitchen cabinets cost-effective, but it is also the more environmentally responsible choice compared to the waste involved with a complete replacement. Our team of professional cabinet painters are capable of providing you with the quality services that you need to keep your Denver Colorado, home looking great.
Kitchen Cabinet Painting
Kitchen Cabinet Painting, is a great way to completely transform the look and feel of your kitchen. However, these kinds of projects can quickly get expensive. Compared to the expense of a kitchen remodeling project, kitchen cabinet painting is the more affordable option to getting the look you have envisioned for your kitchen but without breaking the bank!
ELEVATE YOUR KITCHEN WITH KITCHEN CABINET PAINTING!
Kitchen cabinet painting, is one of the best ways to change the feel of your kitchen and create a like-new experience. Our residential painting company tackles your cabinet painting project with the industry's best equipment as well as more than 35 years of experience. We understand that having your kitchen turned into a construction zone is stressful, so we work efficiently without compromising on excellence. We easily handle the multi-stepped process that bogs down so many DIYers — cleaning the cabinets, removing the doors, organizing the hardware, prepping the surfaces, applying multiple layers of paint, and then putting it all back together.
Our regular process is to remove cabinet doors, drawer fronts, and interior doors and refinish them in our shop, using our airless sprayer equipment.  Spraying produces a much more uniform finish, without brush marks. And because the work is done in our shop, that's where the mess stays, not in your home. So you can continue to use your spaces while the painting work is being done. 
Then once painting is completed, we will reinstall the doors and drawer fronts. You get a transformed kitchen or bath, without all the mess!
In addition to painted cabinets, doors, and trim, we also handle in-shop refinishing such as staining and varnishing.  If your cabinetry and doors are structurally sound and you still like the design, then maybe all you need is a facelift with a clean, new finish and perhaps some new hardware.  (We can install that as well, when we put those doors, drawers, and cabinet doors back in place.
While our shop works great for these larger projects, at times our customers would prefer that the work be done in their homes, or perhaps it's just one piece so it doesn't make sense remove/move/reinstall things. In that case, we mask things off to minimize the mess. And of course, we'll clean up afterwards so no evidence remains, other than gorgeous cabinetry, doors, and trim.
If you're like most people, you spend a lot of time in the kitchen. Whether you're preparing meals, eating, or spending time with friends and family, the kitchen plays a central role in your home. That's why it's so important for your kitchen to always look its best. If you're looking at your kitchen walls every day, of course they should be attractive. Perhaps you've thought about upgrading or remodeling your kitchen, but were put off by the cost. Luckily, there's a better way and We Painted It is here to help. With our kitchen cabinet painting services, we can transform your kitchen at a small portion of the cost of remodeling.
CABINET REFINISHING DENVER EXPERTS
A new coat of paint is a surefire fix for a dull kitchen. Cabinets are often the focal point of a kitchen, and a new color scheme is a great way to make them look new again; however, it's not a job for amateurs. Many homeowners have tried and failed to repaint their kitchen cabinets making them look worse than before. That's why you need We Painted It. We've serviced homeowners across Denver Colorado, to give them the kitchen cabinets of their dreams. Our experience gives us the expertise to get the job done right.
PICKING THE RIGHT PAINT FOR YOUR KITCHEN CABINETS
Now that you know about the magic of cabinet repainting, the only limit is your imagination. What new look do you want for your kitchen?
A dramatic, vibrant color scheme will make your kitchen come alive and is sure to be a conversation starter.
The minimalist approach is an increasingly popular choice. This low-key look gives you the option of switching up the vibe with personal art or knick-knacks.
The "it will do" look never gets old. We'll give you the rustic home feel you love. Cabinet staining is a great way to achieve this design trend.
Whatever you can imagine, we'll work hard to achieve your dream cabinets.
CABINET REFINISHING: HOW WE DO IT
Surely, you've seen sloppy paint jobs or chipped paint on other peoples' kitchen cabinets. That's the last thing you want for your own, and that's the last thing we want for our clients. Here at We Painted It we follow a special multi-step process to ensure the best kitchen cabinet repainting.
✔ Step one is research. This is an important factor in determining the type of paint, finisher, and primer we use.
✔ The second and most important step is applying primer. This prepares your cabinets for the paint job.
✔ When the primer has dried, we'll apply your chosen paint color, using as many coats necessary to get your desired look.
✔ We then apply a finisher to give it a sleek and smooth shine.
✔ And last but not least, we clean up after ourselves.
Hiring The Best Cabinet Refinishing Company
Upgrading your kitchen can seem daunting, expensive, and time intensive. So you want to make sure you do your research search so that you can hire the best cabinet refinishing company in Denver. Cabinet Refinishing Denver, pcan provide fast, reliable service you'll love. Instead of replacing your kitchen cabinets completely, consider cabinet painting or refinishing them instead. You'll have a new kitchen in just a matter of hours instead of weeks of waiting and possibly getting displaced during the project. We've been serving your community for over 3 1/2 decades and our certified professionals and available any time for an in person consultation.
Cabinet Refinishing in Denver Colorado
Refinishing your kitchen cabinets with a new coat can be the change you've been looking for. The cabinet refinishing Denver, process is simple and you'll fall back in love with the kitchen you've always had. Our professionals are ready to transform any kitchen whenever you're ready. We work with wood cabinetry, formica, or thermofoil materials so we can meet your needs. Choose from a variety of finishing colors and you're set. Your Denver, home will change before your eyes and you'll be happy you decided to choose Artistic Refinishing to upgrade your kitchen.
Not only will your kitchen cabinets look and feel like new, they will be protected from heat damage and mold. Set your kitchen cabinets up for anything with top-notch cabinet refinishing. The kitchen is where we spend a lot of our time, by entertaining, feeding the family, preparing, cleaning, or anything else. Your kitchen should be entertainment ready and it should not be the reason you decide not to host this week's soccer team win or your group's weekly go-fish game.
Top-Quality Cabinet Painting in Denver Colorado
A new coat of paint can change your kitchen completely. Add years to the life of your kitchen cabinets by joining Artistic Refinishing in transforming your kitchen with exclusive cabinet refinishing Denver. Paint can express your personality, and add a theme to your kitchen you never thought possible. Choose from a variety of our colors. Our professionals will come out to your Denver home and your cabinets will feel brand new in just a matter of hours. If you're planning on moving, the kitchen is often the deciding factor when choosing a new home. You want your kitchen to stand out, look clean and professional. Your potential buyers will be wowed by your cabinets and you'll be happy you didn't spend up to 80% more on choosing any other option.
Denver cabinet refinishing project will have you to be the talk of the town!
Remodeling your Denver home can cost you up to $30,000. If you're moving or even if you want something new in your kitchen, Cabinet Refinishing Denver, can get you the look you desire at a fraction of the cost with cabinet refinishing. Take a small first step by updating your cabinets and this decision could save you thousands of dollars, time, and headache. Now, instead you can look around your kitchen knowing you made the right choice with a local company that has been serving cabinet painting to your Denver, community for decades and all throughout the state of Colorado including: Lafayette CO, Arapahoe County,Jefferson County, Broomfield, Denver County, Erie CO., Frank Town Co., Superior Colorado, Lakewood CO, Highlands Ranch, Frederick Colorado, Boulder Co, Loveland Colorado, Adams County, Castle Rock Co, Louisville Colorado, Littleton Co.,Thornton colorado, Colorado Springs CO, Longmont Co, Douglas County, Littleton, Firestone CO, Castle Pines, Ft Collins Co., Parker Co, Colorado, Colorado, Centennial CO, all of Colorado,.
See why people all over Denver, are coming to Cabinet Refinishing Denver, repainting needs. Contact us today for ideas, information, and estimates.720-219-9716
To see more Cabinet Refinishing Denver, tips click on the link below.
https://www.hunker.com/13416981/satin-vs-semi-gloss-kitchen-cabinets