We'll bring color and creativity to your existing cabinets in less time, at a lower cost, and with less stress than traditional kitchen upgrades.
It's hard to believe this bright, new, cool-toned kitchen went from drab to fab in just in 7 to 12 business days! There are so many details of this kitchen renovation that we love: the new glass front cabinets, the new tile flooring, the elevated bar-top, it's just too difficult to choose a few to highlight! But don't just take our word on how well this kitchen renovation in Denver.
Alternatively, you may have just moved into your 'new' home and you may want to change the colour of the doors on a 'new' kitchen, to give you a completely unique kitchen, as we can spray your kitchen any colour and finish of your choice.
Best of all, the bulk of the work can be done at shop without making a huge bill to update your kitchen. Instead, we will take your cabinet doors off, bring them to our shop here in Denver, Colorado, and give them an extreme makeover by using our state-of-the-art refinishing techniques and most up to date waterborne lacquers and waterborne oils paints!
For wood cabinets that need to be refreshed, we have a cost-effective yet transformative process that will bring new life to old cabinet doors and drawers. First, we give the doors a detailed cleaning to completely remove all grease and dirt. Then we hand-sand the cabinets to dull the existing finish. After that, we apply a pre catalyzed high build lacquer primer or stain of your choice onto the wood to give the doors a more rich, uniform, and clean appearance that makes them look as though they came directly from the factory. We do not recommend the use cheap latex products like latex caulking nor do we bondo cabinet seems because of the high probability of them recracking. After two coats have been applied and dried, multiple coats of the most up-to-date waterborne lacquers or waterborne oil paints in the sheen of your choice are sprayed on to give the cabinets an extremely durable factory-like finish.
Cabinet Refinishing Wood
Fortunately, if your kitchen cabinets have worn down to such a point, you can easily get them and your kitchen looking their best once more. For that, just call us for your kitchen cabinet refinishing and we service all of Colorado!
If your kitchen cabinets have worn down over the years, the kitchen itself will lose a significant portion of its value as will the value of your home. This can be a problem should you want to sell your home and find that outdated cabinets prevent you from commanding the highest price for your home.
You might consider replacing those worn-out cabinets as a solution to this problem, but considering how costly that process can be, you might find that the expense cancels out the increased property value you're after.
Instead, call us to get your worn cabinets looking beautiful and new once more. With a kitchen cabinet refinishing, we can help to retain your home's value at a great cost, providing an unbeatable financial benefit.
You can trust that we will take care of everything you need to achieve the look you always wanted!
OUR PROCESS

•All hardware from front drawers and doors will be removed
•Floors, counter tops, and all other surrounding surfaces, that do not require painting will be protected
•Cabinets will be sanded and de-greased
All rough areas will be addressed for a factory finish appearance
•Cabinets will be masked off in preparation of priming and painting
All cabinets, drawers, drawer fronts, and doors will receive one coat of an adhesion primer
•Two finish coats of cabinet paint will be applied to all cabinets, drawers, drawer fronts, and doors which includes 1 coat of primer and 1 coat of finish.
•All masking and floor protection will be removed once the job is completed
•All tools will be cleaned up and placed in a location specified by the homeowner
Counter tops and floors will be wiped clean
•Upon completion of the job, a walk will be conducted with the homeowner to ensure complete customer satisfaction
When it comes to giving you quality you can trust at affordable prices. Finish Factory is the perfect company for you. We will go out of our way to make sure your jobs 100 percent done right. Our cabinet refinishing service is like furniture restoration in that we make repairs and refinish cabinets of your dreams. Including finishes with glazes and distressing. Pick from variety of door and drawer styles to ad to your cabinet refacing. We offer personal attention to every project. When refinishing cabinets we take great pride in the quality of our craftsmanship.
We have created a process for cabinet refinishing, and all of the Colorado area homeowners will find to be is second to none in the kitchen remodeling market, in both look and durability. First, Cabinet Refinishing Denver, CO., only utilizes the highest skilled team of refinishers (father and son). With years of experience under their belts, you can rest assured that you will get the highest quality work with as little interference to your life as possible.
Second, we use the finest quality finishing product that is the most durable coating on the market. It is three times more durable than the common materials used, such as lacquer, primer and a industrial strength waterborne acrylic. Our coating is rated for indoor and outdoor use and it adheres to a variety of surfaces, such as metal, plastic, stone and wood. The finishes are beautiful, smooth and there are a variety of sheens to choose from. Through many years of experience refinishing kitchens, Better Than New Kitchens knows that such heavy-use areas such as your kitchen or bathroom warrant such a high quality product. It will protect you kitchen from chipping, peeling and bubbling which often comes with exposure to heat and water.
Every home renovation project requires careful consideration. You need to think about the look that you want for your home. You also need to find the right people for the job. At Cabinet Refinishing Denver, CO., we have served the Colorado, area for over 3 decades.
We are committed to delivering the best Cabinet Refinishing services in the Denver, area. These services include cost effective kitchen cabinet painting and always provide the following benefits:
●Reliable service
●Attention to detail
●Quality results
●Free consultations and price quotes
The kitchen cabinets are an essential feature of any kitchen. Other than the counters and the appliances, the cabinets set the kitchen apart from the rest of the home. They also provide the easiest way to give your kitchen a new look.
With any home remodeling project, painting the room is typically the less expensive option. By choosing to update your cabinets, you get to change the way that your kitchen looks without draining draining the bank account.
The next step is to contact us to book your free consultation. Choose a time that works for you. We can assess the project, discuss color options, and start preparing for your kitchen transformation.
If you have already made up your mind about repainting your cabinets, you probably don't need to read the benefits. However, for those who are warring with the idea, let's have a look at all the rewards you can gain.
Firstly, it can reinvigorate your kitchen. Old cabinets give the space a tired atmosphere something that isn't taken kindly to in the kitchen! A fresh lick of paint will do a world of good.
It improves your home's value as people think you've invested a lot in the replacement of your entire suite. Not to mention that the project can be over and done with in less than 12 days.
You could save yourself thousands of dollars by renewing your kitchen cabinets with a fresh coat of paint. Replacing your kitchen cabinets is an incredibly expensive choice. Painting your kitchen cabinets can be a time consuming endeavor. Making sure they look perfect is a difficult task to undertake on your own. Choosing to paint your kitchen cabinets is a step towards increasing the value of your Denver, CO., home without the expensive renovation. Not only will they look gorgeous, but that built up grime and grease will become a thing of the past.
Save yourself the stress and leave it to the professionals. Stunning looking kitchen cabinets are a phone call away. We know the right kinds of paint that will create the best finish on your Denver, kitchen cabinets.
Cabinet Painting

If you've been enjoying your older kitchen cabinets, then it's time to think about cabinet refinishing. Once the original cabinets have been successfully refinished it gives a Denver, CO., homeowner a variety of options to fit your individual needs.
If you're feeling unsatisfied with your kitchen, don't think your only course of action is to remodel it. Instead of refinishing your kitchen cabinets, which can cost tens of thousands less then buying new and takes months to complete, bring the delight of an extreme makeover to your kitchen with a few coats of fresh paint: kitchen cabinet painting! Your freshly painted kitchen cabinets would look fabulous in any of choice of white, modern black, or even a sophisticated gray.
Can't decide on one color for your cabinets? Paint the top and bottom cabinets different colors! Since blue and yellow are complementary colors, they're the perfect hues for a funky combination. No matter what style you're trying to achieve in the kitchen, you can't go wrong with kitchen cabinet painting. Visitors to your home won't believe how gorgeous your kitchen is!
For more than 38 years, we have established contracted procedures in cabinet refinishing to ensure your cabinets are prepped and painted properly. As part of our refinishing services, we will remove the doors and drawers from their cabinets, and then remove hinges and handles.
After filling indentations with Bondo if contracted to do so, we sand the doors and cabinets to degloss and smooth them. All this work ensures that your cabinet doors can look new again after the cabinet refacing, and the paint job will look newer, lasting longer, and offering protection for your kitchen cabinets.
Our staff here is experienced in fine wood refinishing and performs one-job-at-a-time to insure total focus with each Customer insuring a 100% totally satisfied outcome… We do not use cheap products like house painters caulking on your expensive cabinets Reach out to us for a Google Photo Link of our work and you will agree that we are both Affordable and High-Quality!
Painting Kitchen Cabinets, Colorado, and Beyond including, Aurora CO., Highlands Ranch CO, Parker Co, centennial Co, Castle Pines Co, Castle Rock Co, and all of Douglas County, Lakewood CO, Littleton Co., Jefferson County, Broomfield, Thornton, Littleton, Arapahoe County, Adams County and all of Denver County, Centennial CO, including Boulder Co, Colorado Springs CO and the entire state of Colorado. Superior Colorado, Louisville Colorado, Frederick Colorado, Longmont Colorado, Loveland Colorado, fort Collins Colorado, Lafayette Colorado, Erie Colorado, and Firestone Colorado.
So The kitchen of your dreams begins with one you already have. Painting Kitchen Cabinets Colorado, and the entire surrounding cities, and the city of Denver, wide leader in cabinet refinishing, cabinet fine finishes, cabinet glazing and cabinet resurfacing. With several locations in the Colorado, area, we are able to do work all over Denver.
So Whether you are looking to refinish your current cabinets, fix your cabinet doors, or install brand new cabinets and apply a fresh new coat of paint, We offer the highest quality craftsmanship and professionalism for cabinet refinishing services in all of Denver, Colorado. We get the job done right the first time, every time. Don't waste your time or trust your kitchen cabinets with an inexperienced handyman. Let us here at Cabinet Refinishing Denver, Colorado, transform your kitchen cabinets into the hand finished Is amazing factory finished custom color you've always wanted.
Finished fine wood brings a warm, comfortable, and luscious glow to any living space. Enjoy our convenient professional bathroom or kitchen cabinet refinishing as it brings out the beauty and luster of a natural wood grain.
You also have the option to go with many other finish optional types. For example, a more modern solid color look or even an antique look. The possibilities are endless.
Refinishing Bathroom Cabinets
We can add some spark to your dated bathroom. Due to the versatility of paints, stains, glazes, and finishes, cabinet resurfacing is a breeze when you trust us to do the job. The dependable crew at Cabinet Refinishing Denver, are exceptional at cabinet staining and repainting cabinets for your Denver, Colorado, bathrooms. Let our experienced cabinet refinishers use their professional techniques and talents on your Denver, bathroom cabinets and reclaim their beauty. Your bathroom vanity will never look better with one of our quality finishes.
 

Why Choose Us For Your Kitchen Cabinet Refinishing
For over 38 years of cabinetrefinishing, serving all of Denver, Colorado, has been providing custom cabinet refinishing in Denver, Colorado. Our attention to detail and excellent customer service is what has kept us in business and keeps our customers coming back! You can trust us that your cabinet refinishing in Denver, Colorado, are as courteous as they are knowledgeable and that you will be delighted with your updated cabinets. Contact us about your cabinets refinishing project in Denver, Colorado. Our cabinet painting crew will be happy to provide you with a competitive quote and stand by the outstanding cabinet refinishing service that we deliver.
Contact Us for Painting Kitchen Cabinets, Colorado
If you want to transform your kitchen or bath with updated cabinets, call Painting Kitchen Cabinets, Colorado, today for a free quote for cabinet refinishing at 720-219-9716
To see more cabinet painting Denver, CO. tips click on the link below. Other companies work ethics may not reflect ours, at Cabinet Painting Denver, CO., work ethics for we do not use cheap latex caulking or bondoing seams because of the high Probability of recracking and you cannot sand latex caulking.
https://dengarden.com/home-improvement/Tips-for-Prepping-Cabinets-for-Paint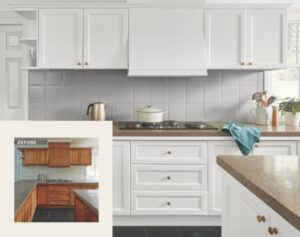 You don't need to hire a team of contractors to destroy and rebuild your kitchen. You can get the new look you desire with cabinet restoration and a professional paint job from Cabinet Refinishing Denver.